Coffee Fuels Our Students, But Can it Fuel Our Buses?
UNIVERSITY OF ALABAMA STUDENT WINS THE 2018 ENERGY MANAGEMENT ESSAY CONTEST WITH IDEA TO TURN USED COFFEE INTO FUEL.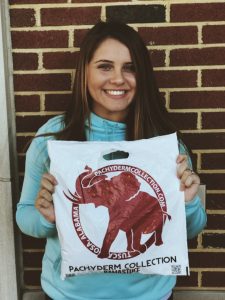 Throughout November and December, Energy Management accepted submissions from students across campus for ideas on energy conservation's impact on the University. The contest prompted students to consider the future of UA and the importance of energy conservation efforts currently in place.
Freshman Christlyn Horst won the 2018 University of Alabama Energy Management essay contest with her submission detailing an idea to power UA Crimson Ride buses with recycled coffee grounds. Horst's essay included research on biofuels, converted from coffee grounds, used to fuel buses in London.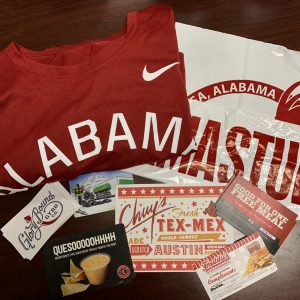 A native of Chelsea, Ala., Horst is studying elementary education. She won a "student survival pack" valued at over $200 made up of donations from popular student destinations in Tuscaloosa. The gifts included a Crimson Tide t-shirt from Bama Stuff, a gift card from Taco Casa and free meal swipes from Bama Dining. Glory Bound Gyro Co., Chuy's, Freddy's Frozen Custard & Steakburgers, and Chipotle also contributed coupons and gift certificates.
Read the winning essay:
Tuscaloosa is home to 100,287 people. In 2018 a survey stated that The University of Alabama had 38,563 total students, with 6,600 of those students alone in the College of Arts and Sciences. There are 7 media centers, 17 residential communities, around 35 educational buildings, and 21 athletic facilities on UA's main campus (260+ buildings), all of which are accumulating trash and using power, water, heating, and air. These facilities use energy to run adequately so that students may use them to study, live and go school while preparing for our dream jobs.
However, is anyone truly thinking about how much energy is being powered to run all these facilities? I was reading an article online the other day about coffee ground powered buses in London. I instantly thought about the ridiculous amount of coffee intake us students consume in just a year's time, and how many coffee shops there is not only on campus, but in just a 5-mile radius of campus as well. Which then took my mind to all the bus systems that circulate the University campus all day every day. If these buses are working as well as people are saying they do in London, I believe that the University would have nothing to lose, but everything to gain by using our leftover coffee to power our buses.
The London buses are powered by a company called bio-bean. According to an article published in Architectural Digest, "The company gathers used coffee grounds on a daily basis from thousands of different coffee shops around the United Kingdom. They then bring the by-product to their factory in Cambridgeshire and begin breaking the grounds down into biofuels. After the coffee grounds are dried, the oil is extracted, which is then blended with the other fuels used to go into buses." (Mafi, 2017).
"We believe that there's not a single solution to the energy crisis we are facing," said bio-bean founder Arthur Kay, in an interview with CNN. "And so electrical energy is part of that solution, but what we're also looking to do at bio-bean is really find clean energy solutions that are deliverable today (Mafi, 2017)."
"What Kay means by this is that, with his firm's technology, the public transit system in London does not need to change or reinvest in their buses or the engines that run them since this new biofuel can already work in traditional, combustible engines. Unfortunately, reusing coffee bean waste won't completely run our cars and buses anytime soon, but it could play a large part in reducing carbon dioxide emissions (Mafi, 2017)."
Used coffee grounds are making appearances in more than just buses. In an article by the Guardian, coffee grounds are also being used to make detergents and bioplastics (Kennedy 2013). Not only are coffee grounds useful for a variety of delicious caffeinated beverages, they can help save our planet by providing a safe and natural alternative to many harmful substances.
While there is still research to be done and kinks in the process to be worked out, we are on a college campus filled with thousands of students who are here to do research and solve world problems just like this one. I won't even begin to talk about how amazing the University would look if we were able to introduce a system like this to our campus, just as we did when we partnered with Apple to make Action Cards accessible on your mobile devices. It may take a lot of work and time, but this idea can transform not only our community, but communities and cities everywhere. After all, this is where Legends are Made, correct?
Works Cited
Kennedy, Bruce. "Grounds for Sustainability: Coffee for Energy, Fuel and a Cleaner World." The Guardian, Guardian News and Media, 13 Dec. 2013, www.theguardian.com/sustainable-business/grounds-sustainability-coffee-energy-fuel-pollution.
Mafi, Nick. "Buses Are Being Fueled by Coffee Grounds in London." Architectural Digest, Architectural Digest, 21 Nov. 2017, www.architecturaldigest.com/story/buses-are-being-fueled-by-coffee-grounds-london.