Leadership. Service. Sustainability.
These are the values of the University of Alabama Eco Ambassadors. Sponsored by the Department of Energy Management, Alabama Eco Ambassadors work on campus-wide initiatives to better the University and lesson our environmental impact.
The goal of the Department of Energy Management is to invest in the future professionals of the sustainable energy and conservation industry through opportunities for hands-on experience and professional development. Ambassadors work at least 10 hours each semester on projects such as energy audits, education programs for students and faculty, and promotion of energy-conservation resources.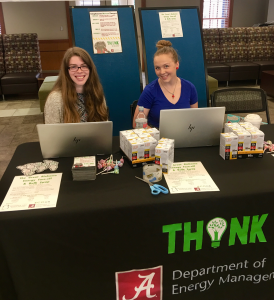 Ambassador positions are open to students of all majors who have an interest in conservation and sustainability. Our organization will include one representative from each residence hall on campus and representative of the different schools on campus such as Engineering, Business, Education, etc…
Potential projects include:
*running the Annual Residential Hall Energy Competition
*the promotion and development of the UA Energy Dashboard
*contributing to a campus-wide sustainability email newsletter
*lobbying for a UA Green Fund
*developing marketing strategies for contests, energy conservation, etc…
*searching for grants for sustainability and energy conservation projects and more!
Ready to make your mark on campus? Apply Here.